The ECF has supported 309 projects committed to stopping poaching, thwarting traffickers and ending the demand for ivory. We fund organizations doing good work on elephant protection in priority areas, enabling institutions large and small, international and local, to have access to funding to address the elephant crisis.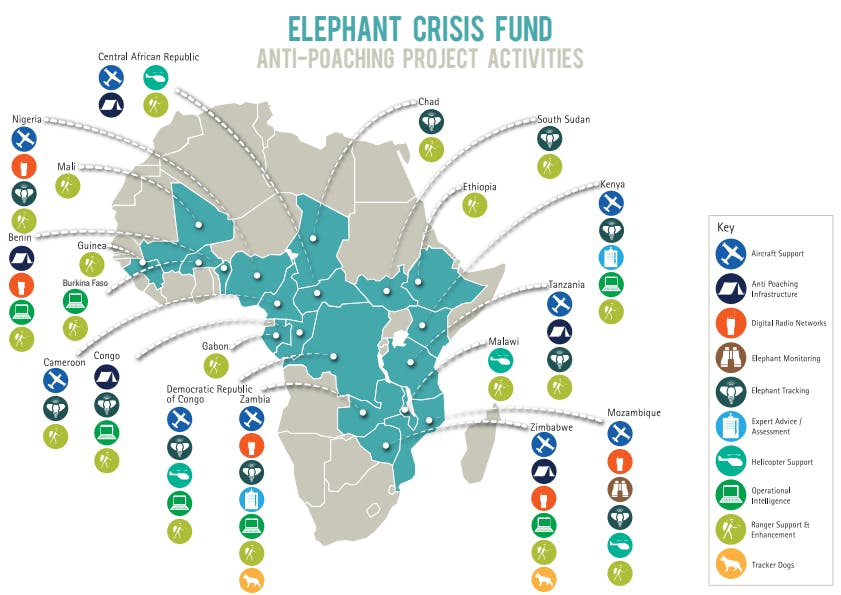 Anti-poaching
Poaching networks are constantly looking for new elephant populations to target for their ivory, and conservation partners across Africa struggle to outpace these criminals. The Elephant Crisis Fund (ECF) support has expanded their anti-poaching efforts. The ECF supports "boots on the ground" and "eyes in the sky" projects to keep elephants safe—and has accelerated investment in emergency responses, intelligence-led anti-poaching patrols, and new approaches to satellite tracking of elephant movements for greater security. The ECF has supported 154 anti-poaching projects across Africa.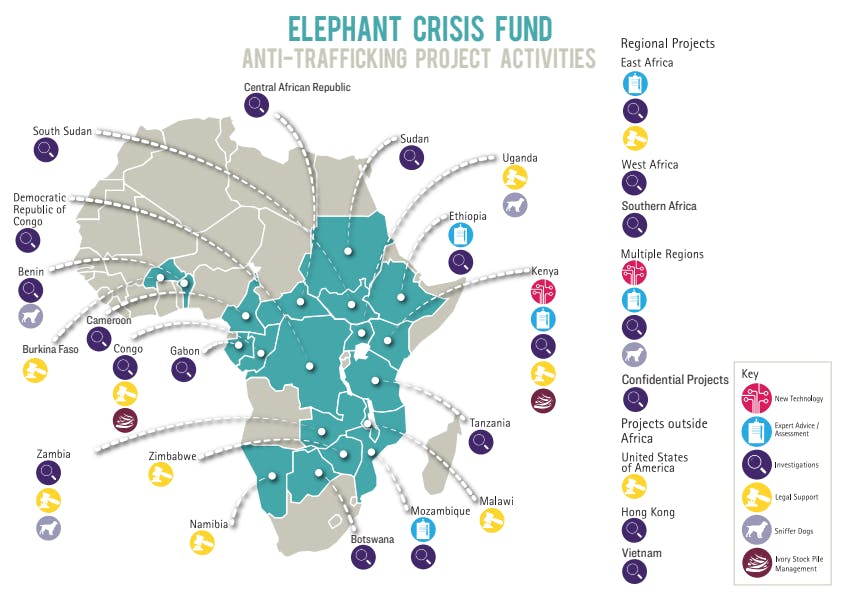 Anti-trafficking
Much anti-trafficking work is carried out in the shadows as it involves deep investigations and undercover work with dangerous criminal networks. To end the ivory crisis, traffickers must be found, arrested, and successfully prosecuted so that criminal networks reject ivory as being more risk than reward. The Elephant Crisis Fund has made dealing with ivory trafficking a priority area —supporting trusted law enforcement units across Africa to find, arrest and prosecute traffickers, helping local partners to develop courtroom monitoring programs, and supporting cross-border intelligence sharing and operations. The ECF has funded 122 anti-trafficking projects in Africa, Asia and the United States of America.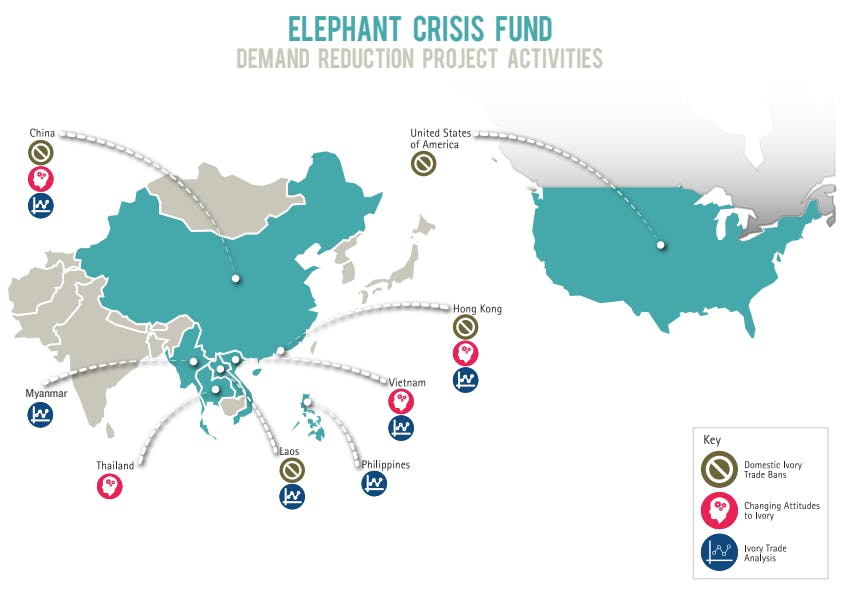 Demand reduction
The ECF makes investments to reduce public demand for ivory and curtail its availability by working with national governments end the ivory trade. The ECF also works with leading ivory experts to investigate the growth of illegal ivory trade markets in Asia and invests in mass media campaigns to educate the public about the negative consequences of buying ivory and shift opinion towards eliminating the ivory trade. The ECF has funded 29 demand reduction projects in Asia and the United States of America.
Below we share details of some of the many anti-poaching, anti-trafficking and demand reduction projects that we have funded.